Effectively Prevent Sports-Related Skin & Soft Tissue Infections
(SSTIs) can effect the health and careers of athletes at any level, across all sports.
MRSA colonization was found in 8%-31% of all athletes who play a contact sport. Skin trauma/wounds can damage the cutaneous barrier, allowing microorganisms to penetrate deeper layers.
DuraDerm® SPORT is the next evolution in organic wound care to treat these common concerns.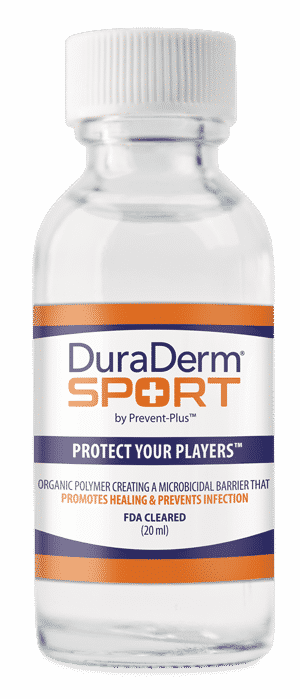 FDA Cleared
Now available over the counter, DuraDerm® SPORT is an FDA cleared microbicidal liquid agent that kills bacteria, fungi and viruses (all microbes) on contact — forming an elastomeric film barrier that protects the wound from water, dirt and germs.

Microbicidal
DuraDerm® SPORT provides the highest level of protection possible — eradicates bacteria, fungi and virusus on contact

Seals and Protects
DuraDerm® SPORT creates a flexible, waterproof and non-odorous barrier to promote healing